What is Vietnam Business Visa?
If you don't know how to get it? Don't worry, It's so easy, the way to get business Vietnam visa online without any documents required. It can be up to 1 year with multiple or single entry. There are two ways for businessmen achieve the visa.
The categorized as DN, LV, DT of Vietnam business visa is granted for entering Vietnam by business purpose. It is not include for businessmen from Visa Waiver Countries. Almost foreigners choose it because they want to open a business or find a new opportunities in Vietnam.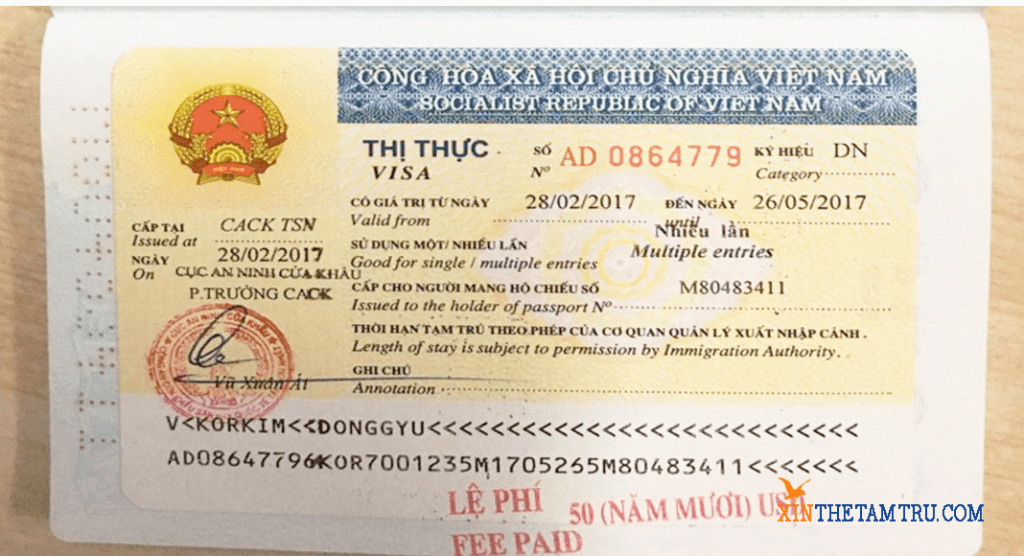 There are two ways to achieve business Vietnam Visa:
Access to website and apply to get visa on arrival.
Go to Vietnam embassy.
Both options are useful but almost people prefer apply online by many convenience like faster and cheaper. If you apply the business visa at Vietnam Embassy, you will get the letter requirement of entry from business partner in Vietnam. More details of business visa:
How to get 1 year Vietnam business visa at consulate/embassy?
Finding the embassy or consulate in your country.
The passport must at least 6 months validity, left blank page on the passport.
Downloading the form on the website of embassy. Completing the form at home with signed, 1 passport photo then bring it to their office.
The business partner in Vietnam will help you to get the letter of entry clearance. You have to provide for them the type of visa, passport, date of enter Vietnam and the name of Vietnamese embassy/consulate that you want to get the visa form. After 5 working days, the letter will be released.
The fee of visa depend on your days you want to stay and the number of entry. Contacting with the embassy about your case, they will suggest you more about the fee.
The express service is available for a month business visa. The processing time is 5 working days.
Apply Vietnam visa on Arrival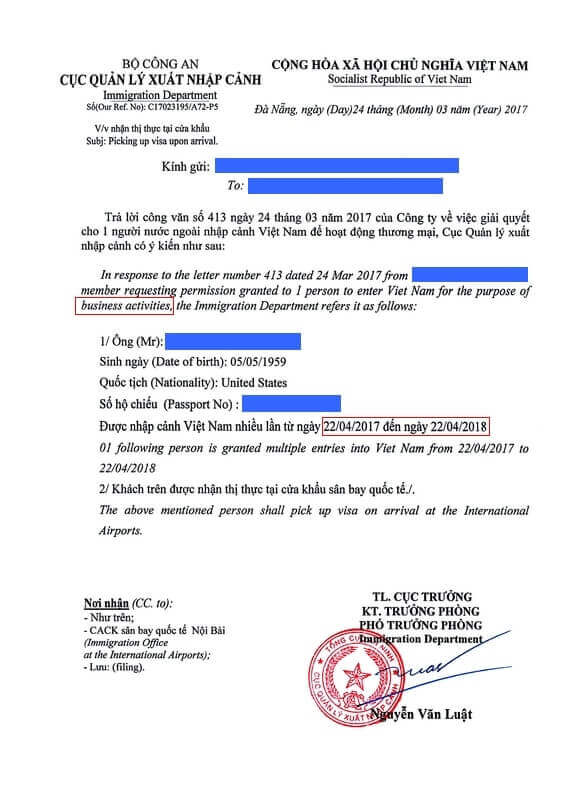 Business visa for 1 month to 3 months
The short-term of online application form for Vietnam business visa is look like Vietnam tourist visa. You can apply it online at home by send the passport copied for us. In the mail, filling out the type of visa want to apply, intend days. Taking a payment by Pay Pal account or bank. After 48 working hours when the payment is verified, you will get a visa approval letter. This letter allows you to go to Vietnam for business during visa validity. Get it and landing to Vietnam by any of Vietnam's international airports (Hanoi, Da Nang, Ho Chi Minh).
Attention: Don't worry if there are more than 1 people listed on your letter because there are many people apply visa at the same time with you. Sending the message when you apply, if you want to get a separate visa approval. It free for this request.
Submit the passport at least 6 months validity, entry-exit form with 1 passport photo, visa approval and pay stamping fee ($50 for multiple visa and $25 for single visa). After 10 to 15 minutes, you will get the stamp passport.
Pay attention:
Paying the stamping fee must by cash in VND or USD. It not accepted the credit payment.
The Chinese airlines are not landing with Vietnam visa approval, so they must fly to Vietnam from outside China mainland if they use visa approval.
Business Visa for 6 months to 12 months.
There are less and seldom travel company provide the long-term Vietnam business visa. However, Visaonlinevietnam is one of the best agency that provide for long-term multiple business visa. There are some of countries are not allows for 6 months and 12 months business visa: Egypt, Middle East, Haiti, Africa and Turkey. Applications required:
Passport copied: Sending the page include personal data for sales@visaonlinevietnam.com
Provided date of arrival: the starts validity of visa from this date.
The place you want to get visa stamp such as name of embassy/consulate (Normally, you will get the visa stamp at the airport).
This visa is open the opportunity for foreigners want to do business with long stay in Vietnam. Please be notice, some of embassies or consulate can get a fee for grant visa. Not only stamping fee but also other fees to add at embassy's office.
Please contact us via email if you have any question sales@visaonlinevietnam.com