The exotic beauty and the exciting culture are the main reasons why a lot of international tourists choose Vietnam as a must-come destination for their holiday.
Have you ever thought of taking a Vietnam motorbike tour to admire beyond-stunning countryside beauty? To make your biking dream come true, we would like to introduce you to the most worth-to-conquer Vietnam motorbike routes. Let's see.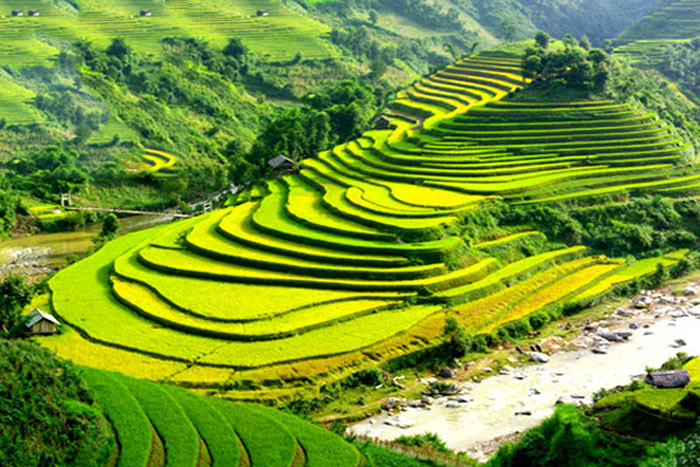 The Northern routes
Hanoi – Ta Xua – Bac Yen
The route detail: Hanoi – Son Tay – Thu Cuc – turn left to Phu Yen – Bac Yen – Ta Xua – Bac Yen – Hanoi
Departing from Hanoi, you will get to Ta Xua – one of the most famous places in the Northwest to hunt clouds. Some of the challenging sections along the way are Kem Slope, Cuc Slope, and Thung Khe Pass.
Surrounded by high mountains, Ta Xua valley always comes with dense clouds, rippling like waves against the cliff, creating an amazingly beautiful sea of clouds. The best time for hunting clouds in Ta Xua is from November to March.
If Ta Xua has fog, you should move to a higher point, on the way to Xim Vang. From the fork in the center of Ta Xua commune, turn left to go to Xim Vang or turn right to Hang Dong.
Hanoi – Hoang Su Phi
There are two options to get to Hoang Su Phi from Hanoi.
Option 1: Hanoi – Ha Giang City – Bac Quang – Tan Quang – Hoang Su Phi – Xin Man – Coc Pai – Lao Cai – Hanoi
Option 2: Hanoi – Lao Cai – Xin Man – Hoang Su Phi – Tan Quang – Bac Quang – Tuyen Quang – Hanoi
Hanoi – Hoang Su Phi is one of the most popular Vietnam motorbike routes. With this excursion, you will have the chance to touch Fansipan Peak – the roof of Indochina, conquer O Quy Ho pass – one of the four magnificent passes in Vietnam, discover Sap – the romantic paradise for all couples, and especially riding to Hoang Su Phi to see the most beautiful and famous terraced fields in Vietnam in the ripe rice season.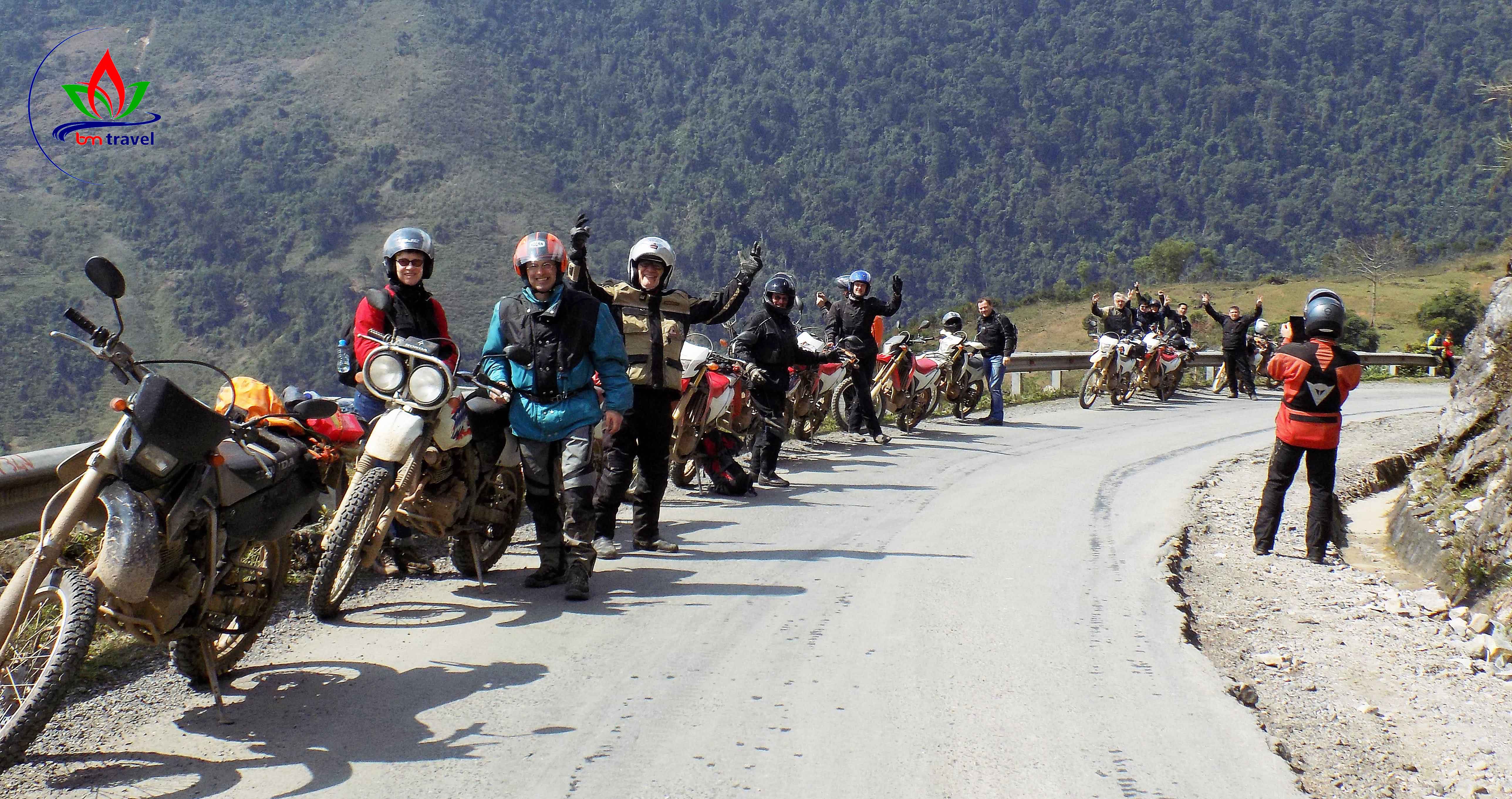 The Central routes
If the North routes are the rugged mountain passes with the two sides of hills and mountains, then the Central region gives bikers the chance to conquer beautiful mountain passes and coastal lines.
Ca Pass (Deo Ca)
Running along a length of about 12 km and a height of 333 m above the sea level, Ca pass is one of the most rugged roads in the Central region. Ca pass cuts Dai Lanh mountain range, lying between the border of Khanh Hoa and Phu Yen provinces.
On the spectacular route of Ca Pass, you will have the opportunity to see the beautiful picture of nature with majestic mountains, vast green forests, immense blue sea bays with ships and boats. You can stop at the top of the pass to enjoy the magical beauty of Central Vietnam and take beautiful photos here.
Hai Van Pass
Hai Van Pass is the arterial road pass of the Central region. This section always has craggy bends to challenge the adventurers. It is one of the 18 most spectacular mountain pass routes in Vietnam.
However, during the journey to conquer Hai Van Pass, you will be captivated by the charming natural beauty of this place, from floating clouds, magnificent mountains, lush green forests to the blue sea, or smooth and sandy beaches embracing the shores.
Bau Trang – The most stunning coastal Vietnam motorbike route
Located about 65 kilometers to the northeast of Phan Thiet city with many zigzag and beautiful roads, Bau Trang becomes a favorite choice for most bikers.
If you are into exploring the beauty of the sea and desert, the Mui Ne – Bau Trang – Phan Ri Cua route is a perfect choice. It is voted as one of the most impressive roads in Vietnam. You only need one day to have an exciting and impeccable experience on this route.
The Southern routes
Saigon – Da Lat
The route details: Saigon – Dau Giay- Bao Loc Pass – Da Lat
This route is suitable for any time of the year. With this one, you can conquer Bao Loc Pass stretching 15 km long with about 107 sharp bends and discover Dalat – the small Paris of Vietnam.
With a total distance of about 500 km, you will go through many forests, passes, lakes, waterfalls, tea hills, pine forests, vast valleys, and many types of terrains.
For those who are passionate about exploring, this is the journey that brings you a sense of satisfaction. Note there are many steep sections, so keep at a safe speed.
Saigon – Nha Trang
Mountain road: Saigon – Cat Tien – Dalat – Nha Trang
This road weaving inland will be extremely attractive for riders who are in love with the scenery of the mountains, especially the unique fog scene when climbing the mountain pass.
You will pass Tri An Lake with the famous hydroelectric power plant and Cat Tien National Park. You can camp here or continue to run to Madagui tourist resort to rest. Then you follow Highway 20, passing through Bao Loc town and get to Dalat. This area has many high passes, including the Penn Pass, which has many dangerous but very beautiful bends, so you should cross the pass around before 5 pm.
After spending one night in Dalat and enjoying its delicious cuisines, continue heading north on DT 723 – Khanh Le Pass – Tel 652 to reach Nha Trang. This road is quite safe, with only about 130 km in length, and you will come to Nha Trang after about 3 hours.
Coastal route: Saigon – Phan Thiet – Ninh Thuan – Nha Trang
If the special feature of the mountain road is the spectacular scenery that is only seen when passing a mountain pass and beautiful view of the foggy Da Lat, then with the coastline route, you can almost see the sea in a 438 km journey.
Starting similar to the mountain road, but when you come to Long Khanh town, instead of turning left towards Tri An, continue to go straight to go through Long Khanh and then straight to Phu Thuy, Phan Thiet. This way is faster than going through Ba Ria – Vung Tau, but you will skip Lagi and Ke Ga lighthouse.
The trip continues with the beautiful bays of Phan Rang – Phan Ri, and the next is Cam Ranh Bay with the famous Binh Ba Island.
If you have more time for your trip, stay here for one more day to enjoy the famous lobster specialties on floating rafts on Binh Ba or Binh Hung Island.
If you are wondering about Vietnam motorbike routes then our post above can be the pointer to help you decide where to start. Visit vietnammotorbiketoursclub.com to learn more about Vietnam motorbike tours and scenic off-road routes to start your adventurous trip in Vietnam.