Travel to Northern Vietnam in ripen rice season (October), the hotspots like Y Ty and Mu Cang Chai will welcome you with the charmingly golden rice terraced fields while the glorious Hoang Su Phi Ha Giang is awaiting at the end of the thrilling loop trails.
Despite being less famous than other locations in the Northwest region, Hoang Su Phi Ha Giang boasts a distinctive beauty of terraces and a vision of idyll and lyricalness. That's why travelers come there in droves every October to get a panoramic view of the golden fields stretching as far as the eyes can see.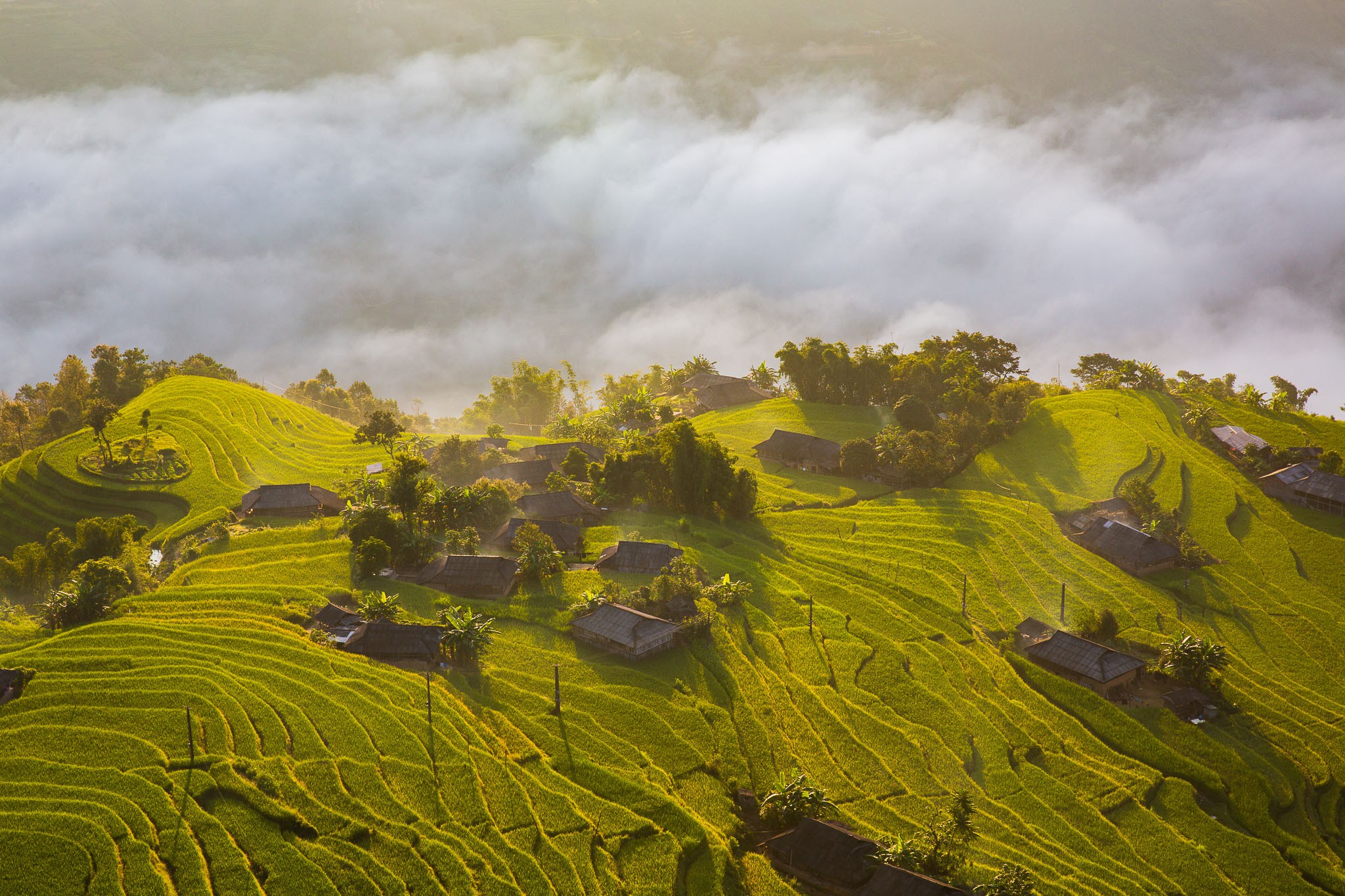 THE WAY TO HOANG SU PHI HA GIANG IS AWKWARD YET FULL OF POETRY
Hoang Su Phi is a rural district in Ha Giang Province, at the foot of mighty Tay Con Linh mountain where is well known for the endless golden rice terraced fields sprawling in the valley.
For adrenaline junkies, the best way to experience the challenging loop trails is to get on wheels. In this trip, we will follow the route: Hanoi – Ha Giang City – Bac Quang – Tan Quang – Hoang Su Phi – Lao Cai – Hanoi. Be noted that the journey is going to be very tough because the route is sinuous with a small radius, steep slopes. It never fails to wow riders, even the most fastidious ones.
Along the way, you will get a chance to see various scenic landscapes with the best aerial views over the stunning terraces, sleepy villages hugged by dreamy mist and the hills of wildflowers. Standing altogether, these natural settings create a sight as marvelous as a watercolor painting that can allure any viators.
BEST TIME TO VISIT HOANG SU PHI HA GIANG
While May is the pouring season, October is the season of golden rice fields. It's when the harvest of paddy rice takes place, covering the whole fields with an exquisite yellow coat.
Generally, it is said that the best time to visit Hoang Su Phi Ha Giang is the second week of October – when the land is full of joy for an abundant crop. Accordingly, its nature looks the most beautiful in the year.
WHERE TO STAY IN HOANG SU PHI HA GIANG
Hotel
In recent years, Ha Giang motorbike tours have been strongly developed. As a result, the infrastructure and services are also upgraded. So it will be easy to find accommodation on the way. There are some popular hotels, such as:
Huy Hoang
Cong Doan
Khanh Linh
Karst Plateau in Dong Van Town
Hong Ngoc
Most hotels and hostels charge a very affordable price which varies from nearly 8 to 13 dollars per night.
Homestay
Additionally, if you want to go native with the life of highland people, homestay is the finest choice for you. The followings are some famous homestays in Hoang Su Phi Ha Giang:
Chieu Homestay – a traditional house of the Red Dao people: Phin Ho Village, Thong Nguyen Commune, Hoang Su Phi District.
Kinh Homestay – also a traditional house of the Red Dao people: Nam Hong Village, Thong Nguyen Commune, Hoang Su Phi District.
Chung Homestay – a traditional house of Tay people: Lang Giang Village, Thong Nguyen Commune, Hoang Su Phi District.
Kim Homestay – a traditional house of Tay people: Lang Giang Village, Thong Nguyen Commune, Hoang Su Phi District.
Canh Homestay: Suoi Thau Village, Ban Luoc Commune, Hoang Su Phi District.
These homestays have an edge over the aforementioned hotel's thanks to its well-situated location that benefits tourists in the way of sightseeing.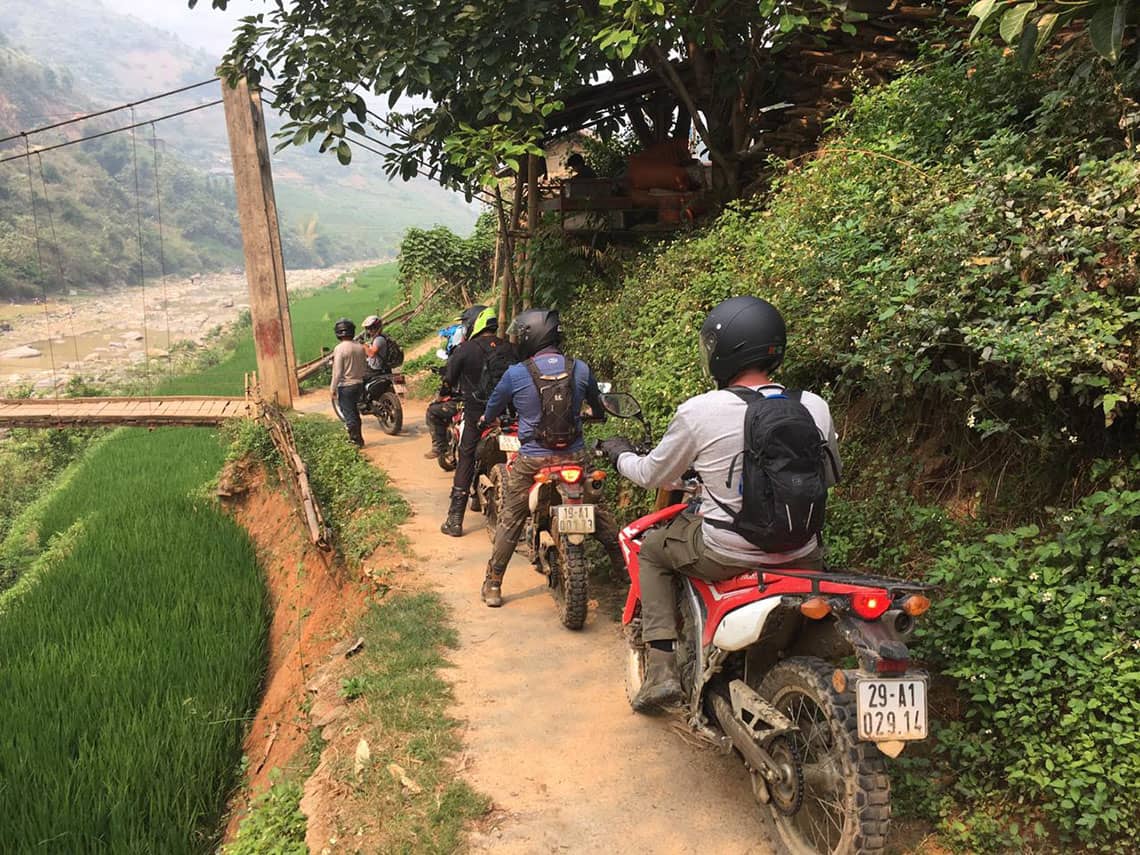 WHAT TO SEE IN HOANG SU PHI HA GIANG
Hoang Su Phi is incredibly awesome in October with the immense golden rice fields. The rice in Hoang Su Phi has higher stalks than that in other areas and the terraces seem to be higher, too. Each piece of sloped plane that has been cut into a series of successively receding flat platforms, which resemble a giant eye-catching helix.
Embraced by the majestic limestone mountains and green forest, the terraces stand out with its grand color – golden. That makes a one-of-a-kind scenery found in nowhere else.
And that scenery is dotted by the small thatched houses built by the indigenous people to take some rest after tilling the fields or watch over it. Take a closer look, you will see the peasants harvesting their crops with indescribable delight.
According to experienced backpackers, Po Lo, Then Chu Phin, Luoc Village, Phung Village, and San Sa Ho are the best sites to get the greatest views of the rice paddy. While Heaven Gate Pass (Cong Troi) and the national relics such as Thong Nguyen and Nam Ty, where have several tough mountain passes and high terraced fields, are the spectacular magnets that cannot be missed.
Viators do not forget to visit the community-based cultural tourism villages on this occasion. For example, Nam Hong, Giang Thuong, Phin Ho, and Lang Giang – where you can throw yourself into the serenity and peace.
Once setting your foot on the Ecolodge Pan Hou Village next to Thong Nguyen River, you will have time to admire the breathtaking natural settings and be closer to nature. Or make friends with the naive girls in traditional costumes from different ethnic minority groups including Mong, Dao, and Tay. Come to Pan Hou, tourists will also have a chance to learn more about the features of Dao people's custom and their daily life as well.
WHAT TO EAT IN HOANG SU PHI HA GIANG
Similar to other areas in Ha Giang, Hoang Su Phi cuisine offers eaters thang den (made from glutinous rice flour and filled with green bean paste), reunuong (grilled moss), dried buffalo meat, five-color steamed sticky rice, au tau gruel, hand-carried piglets, sour pho, rice cooked in bamboo tubes, corn wine, green tea, and other specialties of the locals. It can be said that the cuisine bears the soul of the karst plateau.
However, Hoang Su Phi Ha Giang is more famous for a dish that might make you feel crawly to hear. That is rodent meat – an indispensable dish of the La Chi ethnic group in Ha Giang. With their own culinary secrets, they grill, stir-fry, or hang the rodent meat dry to turn it into a delectable food.
We bet that there are many people who do not dear try this dish but those who overcame themselves to do all claimed that it's such a big loss if you don't taste the rodent meat when touring in Hoang Su Phi Ha Giang.
WHAT TO BUY IN HOANG SU PHI HA GIANG
Hoang Su Phi does not have exotic food but its corn wine – a special drink made of the local corn, for warming up the body in chilly weather is suitable to bring home. Also, the dried buffalo meat featuring the soul of Black Thai people's cuisine that's worth your purchase.
Green tea is a great item to bring home from your trip, too. The tea leaves are hand-plucked on the mountains, at an altitude of 1000m above sea level. Mother Nature bestowed the land with this valuable gift so the locals always treasure, protect, and take care of it to make a delicate product rich in the taste of mountainous areas.
And if you go deeper into the villages, why don't you buy some brocades made by the gentle girls living there? It's sure a precious souvenir presenting the highland people's affection.
THE CULTURAL BEAUTY OF THE ETHNIC MINORITY GROUPS IN HOANG SU PHI
Hoang Su Phi is home to lots of ethnic minority groups including Dao, Mong, La Chi, Tay, Nung and so on. That brings Hoang Su Phi diverse cultural identities. Each ethnic group has its own beauty, from traditional costumes, lifestyle, eating to annual festivals and rituals. These traits have been handed down for generations.
Don't leave here if you have not yet joined in typical festivals such as Nung people's ceremony of forest worship, the Hoang Van Thung ceremony of Co Lao ethnic community, La Chi ethnic people's traditional Khu Cu Te festival, Nung U people's dry-ghost ceremony (death anniversary), and the Red Dao people's Quỹa Hiéng festival.
NOTES
Make sure to check out your motorbike carefully before your departure. Remember to bring along a repair kit just in case of mishaps. Hoang Su Phi Ha Giang has many slopes so ensure your headlight and breaks in good condition.
Pack your backpack with warm and flexible clothes.
Forget not to bring along medications comprising anti-allergy medicine, insect repellents, and remedies to get rid of stomach aches and pains.
Ask for border officials' directions or help when you come near the frontier if it's necessary.
Ask for the permission of a village's Master before getting in and exploring their life.
Come to Hoang Su Phi is the best answer to the question "Where to go in Ha Giang in October?". As wonderful as the paradise, Hoang Su Phi rice terraced fields is a magnificent picture in the vast space of heaven and earth and nature of the border highlands.
BM Travel Adventure is a leading motorbike tour operator and motorbike rental in Vietnam. Annually, we have operated hundreds of off-road Vietnam motorbike tours, Vietnam dirt bike tours, Vietnam enduro tours from north to south (Northern Loop Vietnam, Northeast Vietnam Motorbike Tours, Northwest Vietnam, Ha Giang Motorbike Tours via Hoang Su Phi, Sapa Motorbike Tours, Vietnam motorbike tours on the Ho Chi Minh trail…), and also motorbike tours to the neighboring countries like Laos, Cambodia, Thailand. We are sure to offer visitors the best places to travel to matching their lifestyle for a fun experience and the most unforgettable motorbike tour.
Address: 3/7/36 Duy Tan Street, Cau Giay District, Ha Noi City, Vietnam

Phone: +84 976 024 986

Email: info@vietnammotorbiketoursclub.com