Northern Vietnam is considered the cradle of Vietnamese culture and history. Besides, this region stands out due to the majestic natural scenery from season to season. For this reason, Northern Vietnam attracts a considerable number of visitors all year round. If you have an occasion to discover the beauty of the North region, it is advisable not to miss the top 10 must-visit North Vietnam Attractions for motorbiking below.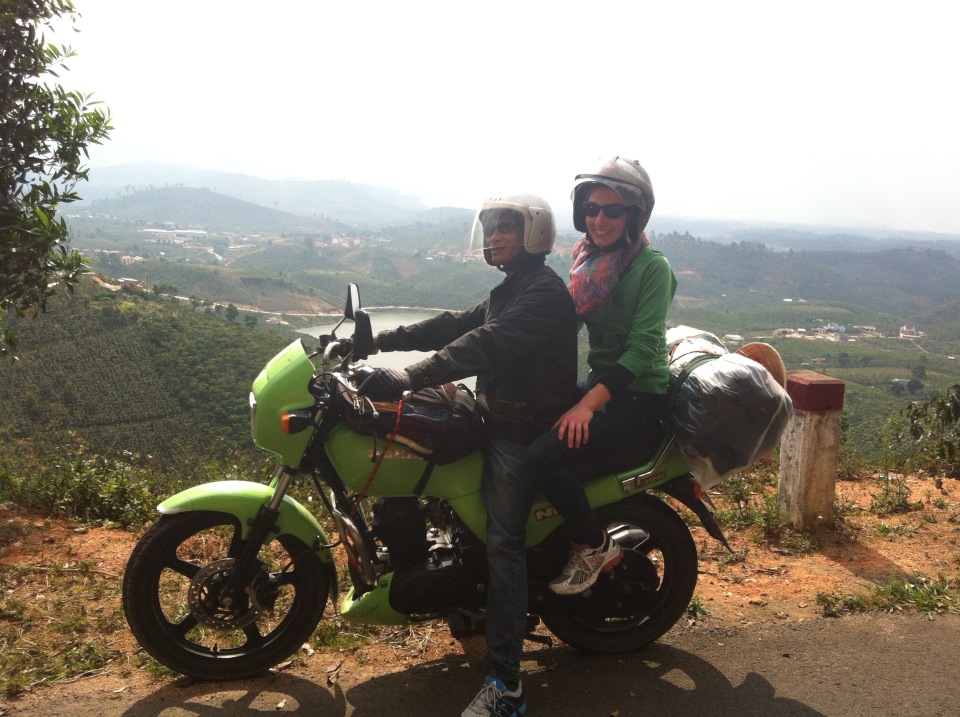 Hanoi
The capital of Vietnam is called a city of thousands of years of civilization where you can admire old streets with ancient architecture and relics. Coming here, you will get an impression of the peaceful space covering the whole city. Spend time walking around Hoan Kiem Lake, visiting Ngoc Son Temple and The Huc Bridge, and doing a tour of ancient monuments and beauty spots to gain unforgettable experiences of this lovely city.
The images of ancient streets with street vendors and sidewalk tea shops that become so familiar to the locals and tourists make Hanoi more unique and charming. Each season in Hanoi brings its own beauty, but the most beautiful one must be autumn when the city looks fascinating with cool weather, clear sky, and delicate daisies. Regarding North Vietnam attractions, it will be a great pity if you miss the opportunity to discover the beauty of this ancient capital.
Sapa, Lao Cai
In the list of the stunning 10 North Vietnam Attractions, Sapa can't be skipped. Wonderful, awesome, stunning are some of the words that domestic and foreign tourists use to express their impressions on this mountainous region.
Located in Northwest Vietnam, Sapa is covered with clouds throughout the year and surrounded by terraced fields stretching out as far as the eye could see. The spectacular natural landscape and unique ethnic cultures are the two highlights that fascinate all visitors to Sapa. Once coming here, you should pay a visit to famous sites like Ham Rong Mountain, Muong Hoa valley, and Silver waterfall. But the most stunning destination in Sapa is Fansipan, which is the highest mountain in Vietnam and Southeast Asia. Besides, you can spend your leisure time walking around the pretty villages in the town.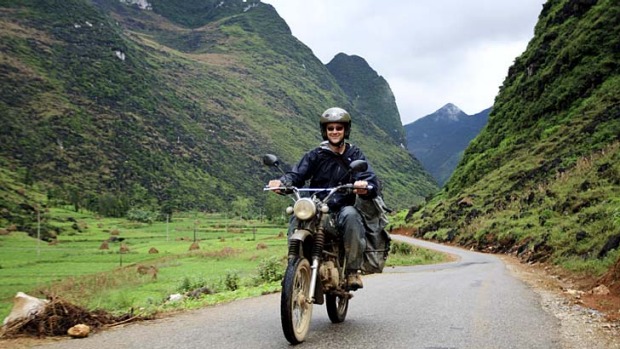 If you desire to find out a place to hunt for cloud pictures, then nowhere is better than Sapa. This picturesque town will make you feel as if you were surfing on bands of fluffy clouds. Therefore, taking a Sapa motorbike tour would be an ideal choice for adventure lovers wanting to get exhilarating experiences.
Mu Cang Chai, Yen Bai
Mu Cang Chai is a mountainous district in Yen Bai province. This area impresses tourists from various places with the breathtaking beauty of the mountain chains overlapping each other and the picturesque terraced fields.
The best season to visit Mu Cang Chai is September and mid-October when the rice starts to ripen. The golden yellow terraced fields become sparkling and shining in the sun, creating a wonderful picture of nature. If you are fond of adding stunning photos to your albums and immersing yourself in a paradise of golden rice fields, it is highly recommended to take a trip to Mu Cang Chai in this season.
Mai Chau, Hoa Binh
One of the must-visit North Vietnam attractions in your North Vietnam itinerary is the lovely valley named Mai Chau, which is located in the West of Hoa Binh and border Moc Chau district of Son La. Mai Chau Valley is now the most sought after by young people who desire for a voyage of discovery through lands of astonishing nature and the unique cultures of ethnic minorities.
Coming to Mai Chau valley, you will have a wonderful trip to explore the landscape, culture, and cuisine of this charming land. This valley is the best choice for those who want to escape from noisy cities to enjoy memorable moments in a peaceful space.
Moc Chau, Son La
For a weekend holiday with great relaxation, you should take a motorcycle trip to Moc Chau, which can compare to a paradise of flowers. It is sure that you will get wonderful feelings when seeing vast tea hills, plum blossoms coming out in the forest, and Thai girls of great charm working in the fields every morning. Besides, the poetic images of white blumea flowers and yellow terraced fields in misty afternoons.
Moc Chau looks like a vivid picture in the immense space of Northwest mountains and forests. Therefore, for those who have ever gone trekking on Northwest lands, Moc Chau plateau certainly remains engraved on their minds.
Ha Giang
With a distinctive beauty, Ha Giang, a northeastern province of Vietnam, should be included in your itinerary when it comes to North Vietnam attractions. The narrow and winding roads meandering rugged mountains create spectacular scenery. No matter which season you go a Ha Giang motorbike tour, you will gain pleasure from taking in the wonderful landscape of this pristine land. If you are excited about riding experiences,  getting across the majestic roads will leave you with unforgettable moments.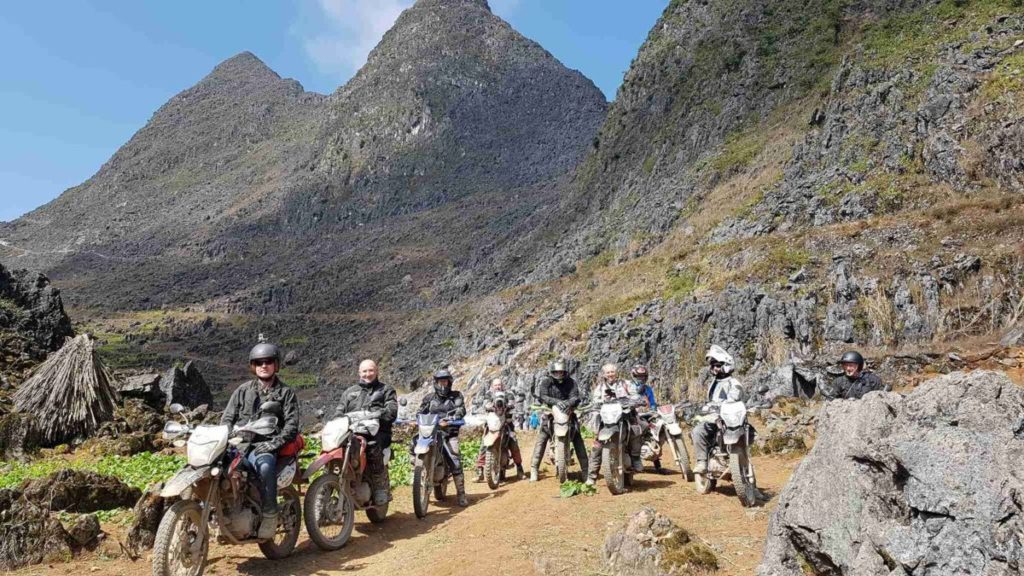 After passing hazardous stretches, you will see a different image of Ha Giang. At times, this land becomes romantic and poetic with buckwheat blossoms covering the whole space. When you have leisure time to explore Northern Vietnam, spend time on Ha Giang to get back to nature.
Ban Gioc Waterfall, Cao Bang
Located in Dam Thuy Commune, Trung Khanh District, Cao Bang Province, Ban Gioc is the most beautiful waterfall in Vietnam. Moving a distance of about 300 km from Hanoi, you can be engulfed in a vast area of clear water and towering mountains. The magnificent landscape surrounding the waterfall turns your stop into a heaven on earth.
Seeing from above, you will come in sight of the scenery of mountains, sky, water in Cao Bang. Bang river winds its way through the mountain slopes and runs through the fields. It can be said that the landscape here is poetic and majestic like an ink wash painting.
Halong Bay
Halong Bay is one of the most famous beauty spots in Vietnam. It's no exaggeration to say that this destination is an earthly paradise. Coming to Halong, you will derive great satisfaction from admiring the unique shapes of thousands of remote islands. Halong not only is a perfect combination of clouds, sky, and water but also brings you a marvelous feeling when you immerse in the sea here.
Halong was listed among the 29 most beautiful bays in the world in 2003 by Club of the Most Beautiful Bays of the World – world-bays. Besides, this bay was officially recognized as one of the seven new natural wonders of the world in 2012 by New Open World.
Cat Ba Island, Haiphong
With an area of ​​nearly 300 square kilometres, Cat Ba is the largest island in the complex of 367 islands of the Cat Ba archipelago. There are a lot of tourist attractions for you to visit on the trip to Cat Ba. One of the favorite destinations here is Lan Ha Bay, which consists of many pristine islets, caves, and sand beaches. The islets in weird shapes here stimulate your imagination while the caves create a deep impression on tourists due to stunning stalactites and stalagmites.
Apart from Lan Ha Bay, Cat Ba is also home to many other attractive destinations such as Monkey Island, Cat Ba National Park, and Viet Hai village.
Ninh Binh
With a host of charming and captivating features, Ninh Binh is one of the most beautiful North Vietnam attractions welcoming a large number of foreign tourists every day. This land introduces you to many dramatic landscapes and historical places. Traveling to Ninh Binh, you cannot miss famous ecotourism areas such as Trang An, Van Long, Tam Coc – Bich Dong, Mua cave, Cuc Phuong National Park, Bai Dinh pagoda, and Hoa Lu ancient capital.
With pristine natural scenery, Trang An was recognized as a world natural and cultural heritage by UNESCO in 2014. The scenery here features the winding rivers flowing through limestone mountains, creating mysterious caves. For pleasant experiences of the surrounding landscapes, you should take a boat trip around Trang An.
BM Travel Adventure is a leading motorbike tour operator and motorbike rental in
Vietnam. We have operated hundreds of Vietnam motorbike tours annually from
north to south, and also motorbike tours to the nearby nations like Laos, Cambodia.
We are sure to offer visitors the best places to travel to matching their lifestyle for a
fun experience and the most unforgettable tour.
Address: 3/7/36 Duy Tan Street, Cau Giay District, Ha Noi City, Vietnam
Phone: +84 976 024 986
Email: info@vietnammotorbiketoursclub.com