You will get the Vietnam Visa Exemption if you are the citizens of countries have exemption agreement with Vietnam
1. Free Vietnam visa for the required country
Vietnam Government released the certificate of Vietnam Visa. It allows you to go or out Vietnam within the time you fill out with the Department of Vietnam Immigration. You can not enter Vietnam without Visa legally. You will get the stamp on your passport at the international airports.
Normally, you must get a Vietnam Visa if you want to visit Vietnam for any cases.
There are some exceptions:
The certain countries or nationals can visit Vietnam without visa for a period of time, there are the list of regions and countries get Vietnam visa exemption with Vietnam.
Click here to check your Vietnam visa requirement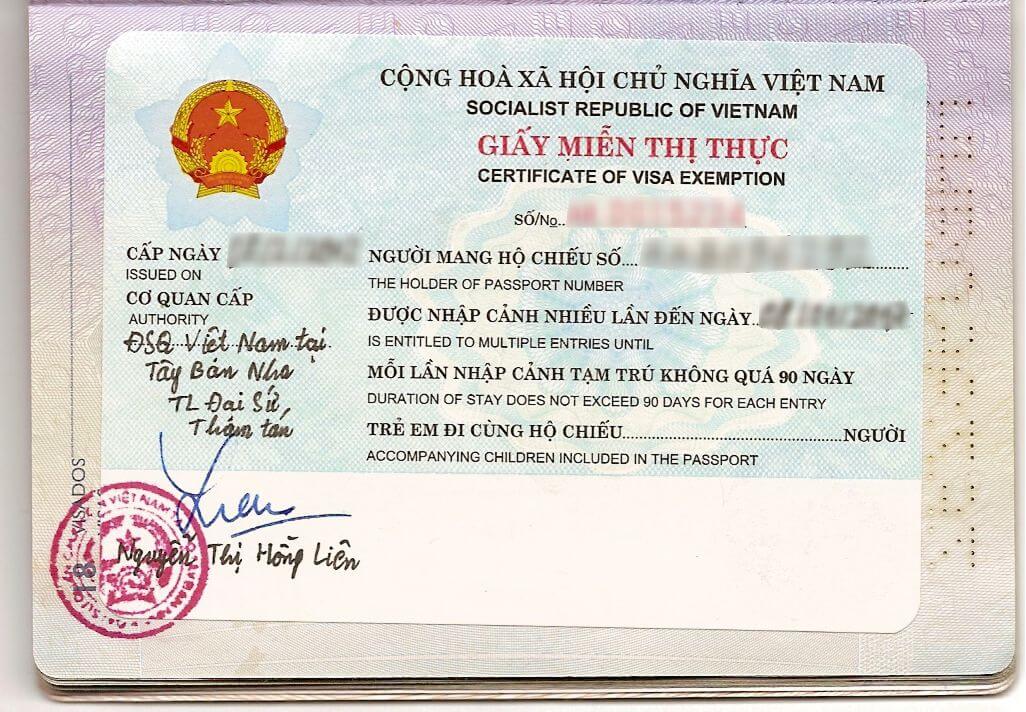 List of countries get Vietnam visa exemption:
Vietnam visa free for 14 days: Brunei, Myanmar
Visa free approves for 15 days: Sweden ,Denmark, Russian, Norway, UK, Finland, Italy, Japan, South Korea, Spain (*)
Vietnam visa for 21 days and free for: Philippines
Free visa for 30 days: Singapore, Malaysia, Indonesia, Thailand, Cambodia, Laos.
Pay attention: Some of citizens (*) want to come back Vietnam with visa exemption again, the second times can not sooner 30 days from the first visit.
You should make a new visa with 2 ways, If you want to travel in Vietnam longer days more than expected plan.
– Applying with a nearest Vietnam Embassy.
– Applying visa online by travel company then get a visa on arrival.
Exclusion:
The foreigners can travel to Phu Quoc without a visa within 30 days. You can travel to this islands by any entry of internationals port include air and sea by apply the visa waiver program.
Foreigners have the APEC Business Travel Card can go to Vietnam not over 60 days by granted visa-free access.
These citizens can hold the official passport and diplomatic can stay in Vietnam with free visa and it's not over 90 days:
Turkey, UAE, Venezuela, Uruguay, Tunisia, Tanzania, South Africa, Sri Lanka, Slovak, Slovenia, Seychelles, Singapore, Peru, Serbia, Russia, Pakistan, Paraguay, Panama, Mongolia, Morocco, Montenegro, Mozambique, Moldova, Mexico, Myanmar, Japan, South Korea, India, Iraq, France, Hungary, El Salvador, Ecuador, Egypt, Chile, Colombia, Dominican, Brazil, Chile, Bulgaria, Colombia, Bangladesh, Algeria, Armenia, Argentina.
The people of Estonia, Czech, France, Germany, Israel, Italy, Spain, Poland and Switzerland can get 90 days to stay without a visa in Vietnam if they have diplomatic passport.
The visa free entry for 60 days accepted the official passport, diplomatic for these citizens:
– Belarus, Afghanistan, Albania, Cuba, North Korea, Romania, Nicaragua.
The exemption Vietnam visa for 60 days applied for Uzbekistan that hold diplomatic passport.
People live in Azerbaijan, Angola, Croatia, China, Kazakhstan, Myanmar have diplomatic or official passport can get visa-free entry for 30 days.
Holding the diplomatic passport, the citizens of Iran allowed to travel Vietnam without a visa for 1 month.
Visa exemption for 5 years
The wives, husbands and children of Vietnamese citizen or abroad Vietnamese can apply this visa if they submit the list of documents at the local embassy:
The passport valid for 6 months after the planed journey, add one copy to file.
A completed copy of application form for visa exemption
Documents prove for the relationship between you and your wife, husband or parents like birth certificate, marriage certificate, etc. (Only one copied)
Other valid documents as legally by Vietnamese Law.
Getting the exemption certificate within 7 days after you got the receipt of application
You can find more information on 5-year visa exemption program at here or download the exemption application form if you need.